The 20th Annual Heartland Nationals again did not disappoint as it was a huge weekend of 300' sand drag racing with racers making the trip from as far away as California, Arizona, New Mexico, Michigan and Ohio to Southeastern Oklahoma.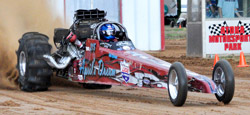 One of those long-distance travelers stole the show in the Top Alcohol class as California's Jim Hammond ran the table with the #1 Qualifying Position, Low ET (2.62) and the final round victory over Randy Kimbley. The big money in the Top Eliminator class stayed closer to Oklahoma as Missouri's Terry Glasscock put his Turbocharged Pinto-powered Dragster in the Winner's Circle defeating New Mexico's Vickie Hall in the final round. The Texas-based JE Motorsports Team had an incredible weekend at the Heartland Nationals with Jimmy Evans taking the Pro 1 Cars win, Jackson Evans won Pro 2 Quads and Jayden Evans defeated Jace Evans in an all-JE Pro 4 Quads final. Another Texas racer Dylan Sivells earned top honors in the Pro 1 Quads class defeating Arizona's Mike Brock in the final. Brock made three finals over the course of the weekend, falling to Tennessee's Tommy Springer in the Friday night Quick 16 Final & coming up short in an all-Brock Racing Heads-Up ATV final Saturday night to teammate Chris Carlson.

Another big winner on the weekend was yet another Texas racer as Rodney Fisher scored both the prestigious Quick 16 Cars victory as well as the 3.80 Index Cars class win. Other big winners on the weekend included: Leah Steelmon (Pro 2 Cars), Lonnie Hohmann (Pro 3 Quads), Mike Dzek (3.50 Index Cars), James Jackson (4.00 Index Cars), Bobby Kincaid (3.80 Index Quads), Nick Allen (4.00 Index Quads) and Cason Shull (Peewees). We would like to thank all our Racers, Sponsors and Fans that made this event another tremendous success at Atoka Motorsports Park. Results are posted on the "Results" page of this site, while the Mid-America series points are posted on the "Points" page just below the Atoka track points.
National Sand Drag News Photo Recap
Lonestar Graphics Thursday Photo Gallery
Lonestar Graphics Friday Photo Gallery
Lonestar Graphics Saturday Photo Gallery
Lonestar Graphics Sunday Photo Gallery